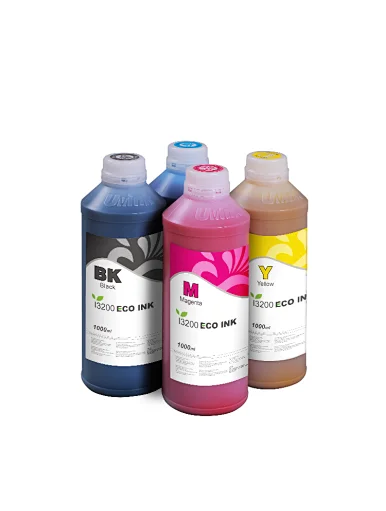 Outdoor Life 12 months 24 months eco solvent ink for epson xp600 dx5 dx7 dx11 i3200 heads
price
US $6.50 - US $12.00 / liters
for epson xp600 dx5 dx7 dx11 i3200 heads
PRINTHEAD: 
EPSON I3200/DX5/DX7/XP600/TX800
COLORS: 
K/C/M/Y/LC/LM
OUTDOOR LIFETIME:
Optional for 12MONTHS & 24MONTHS 
ODOR TYPE: 
Optional for ODORLESS, LESS ODOR, NORMAL ODOR
SUITABLE MATERIALS: 
PVC flex banner, vinyl sticker, PET, Canvas, wall paper, leather etc. 
APPLICATION:
Outdoor Signage, Vehicle wraps, Roll up banner etc.
PACKAGE: 
500ML/1000ML/5L/20L Pack. (Customized package is available.)
WORK ENVIRONMENT: 
TEMP.:  15-28℃  HUMIDITY: 35%-60%
SHELF LIFE: 
12 MONTHS
FEATURES: 
1.Wide color gamut, vivid colors.
2.Excellent water resistance and light fastness.
3.Environmental-friendly, helps extend print heads working time.
4.Nano-scale filter to make sure fluent printing, no clog print-heads.
5. Passed Swiss SGS company's ROHS, REACH environmental certifications.