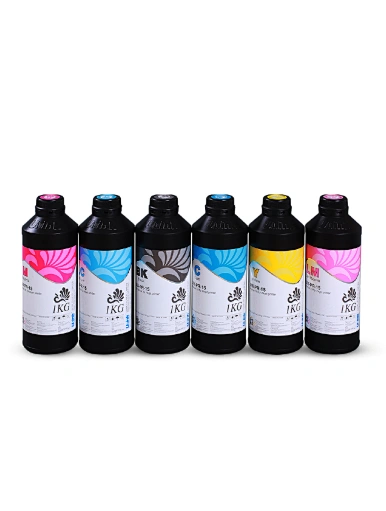 Hard soft uv ink for Konica Ricoh Seiko Spectra Xaar Ricoh Seiko Fujifilm Dimatix Toshiba dead
price
US $20.00 - US $30.00 / liters
Hard soft uv ink for Konica Ricoh Seiko Spectra Xaar Ricoh
PRINTHEAD: 
RICOH G5/6/G5i/GH2220/KONICA 512I/1024I/1024A
/STARFIRE 1024/SEIKO 1024GS/KYOCERA KJ4A/XAAR1201
COLORS: 
K/C/M/Y/LC/LM/W/GLOSS
INK TYPES: 
Hard ink/Neutral ink/Soft ink
SUITABLE PRINTER: 
UV Flatbed Printer & UV Roll to Roll Printer
SUITABLE MATERIALS: 
Glass, Mental, Wood, PVC, Leather, Acrylic, Light box,
Car Sticker, KT Board, Wall paper etc
APPLICATION:
Interior decoration, Advertising, Packaging,
Architecture and construction etc.
PACKAGE: 
500ML/1000ML/5L/20L Pack. (Customized package is available.)
WORK ENVIRONMENT: 
TEMP.:  15-28℃  HUMIDITY: 35%-60%
SHELF LIFE: 
12 MONTHS
FEATURES: 
1.Develop for LED and Mercury UV lamp.
2.Wide color gamut, better printing performance.
3.Good media adhesion, longer outdoor durability. 
4.Fast curing, fast drying, improve the productivity.
5.Environmental friendly, free VOC, Low odor formulation.