How to choose the right uv lamp?
author: Uvink
2023-04-14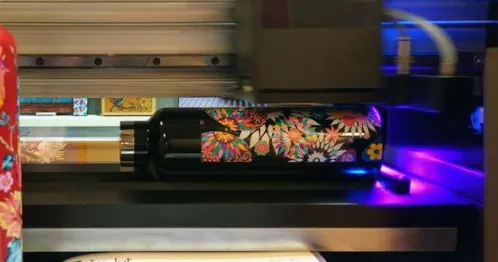 You can choose a suitable uv lamp according to the temperature resistance of the product material.
It should be noted that the higher the power density, the higher the temperature; the slower
the speed of the uv printing machine, the longer the light and the higher the energy value;
   It can be selected according to the thickness of the product. The thicker the uv ink coating,
the longer it takes to irradiate to achieve the curing effect, and the greater the power density of
the uv lamp required; the choice of uv coating includes uv varnish, uv Ink and uv glue require
different ultraviolet energy, and the power density is also different;
The uv lamp of the uv printer is used for curing uv ink. The principle is that the uv lamp emits
ultraviolet rays; the ultraviolet rays irradiate on the uv ink; the uv ink reacts with the ultraviolet
rays and solidifies and adheres to the surface of the material. So for uv ink, the uv lamp of
uv printer is indispensable.
   Generally, the surface temperature of the uv lamp should be controlled at 200°C. If the surface
temperature of the uv lamp tube is too high, it will shorten the service life of the uv lamp tube,
cause the uv lamp tube to expand and deform, produce "self-fog" phenomenon, and even
cause the reflective aluminum plate of the uv lampshade to melt and deform.
   However, the surface temperature of the uv lamp should not be too low. When the surface
temperature of some uv lamps is lower than 170°C, the energy of the ultraviolet radiation will
decrease, which will cause the current of the uv lamp to increase, and it will be easy to use
after a long time. Transformers or capacitors burn out due to current overload. When printing
hard materials, the power of the uv lamp can be increased, and the curing effect will be better.
When printing soft materials, the uv curing lamp can be adjusted to a lower temperature,
which can effectively prevent the product from being deformed by heat.