The characteristics of water-based uv ink.
The characteristics of water-based uv ink.
author: Uvink
2023-04-24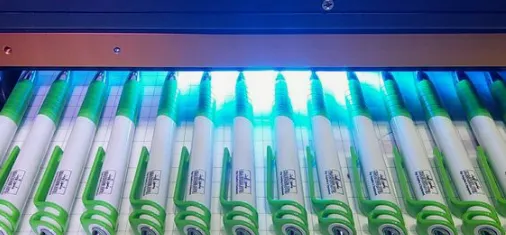 The cross-linking density of conventional uv ink after curing is too large, which is easy to
cause hardness and brittleness, that is, poor flexibility. Therefore, many materials are required
not to be excessively curled after being printed by a uv printer, so as not to cause the ink layer
to break. On the other hand, the viscosity of oligomers in uv inks is generally very high,
and active diluents need to be added to reduce the viscosity. Although there is no VOC
emission in the printing process of uv printers, because of the active diluents, it is harmful to
human skin and mucous membranes. There is still some excitement.
   Photocurable water-based inks use water as a diluent and use uv radiation curing technology
to maximize the comprehensive performance of the two. Compared with traditional oil-soluble
uv light-curable inks, light-curable water-based inks have the following advantages: It is not
necessary to use active diluents to adjust the viscosity, which can solve the problems of V O C,
toxicity and irritation; water or thickeners can be used to control ink viscosity and rheology ;
Extremely thin coatings can be obtained; Of course, light-curable water-based inks also
have their shortcomings. Unlike traditional oil-soluble photocurable inks, photocurable
water-based inks mostly need to dry the wet film to remove water before photocuring,
resulting in increased energy consumption. Generally, a drying device needs to be added
on the basis of the existing photocuring production line, which will increase
the occupied space of the equipment.
   On the basis of uv ink technology, uv water-based ink combines the characteristics of
water-based ink, making the product better than 100% uv ink in terms of printing suitability,
dimensional stability, and screen cleaning, especially suitable for large-format screen printing
application. During the ink drying process, the heat of polymerization is released,
and the dissipation of heat is very important for the dimensional stability of the substrate.
Although it is a water-based ink, the film layer forms a network cross-linked structure
during the polymerization drying process and becomes hydrophobic, so the dried
ink has good water resistance.