What is the influence factor of water-based ink viscosity?
What is the influence factor of water-based ink viscosity?
author: Uvink
2023-02-14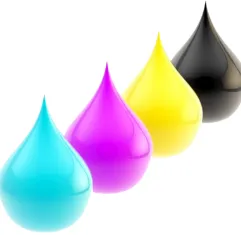 1. Effect of temperature on ink viscosity For the effect of workshop temperature on
printing quality, the relative humidity is better at 60%~85%. When the temperature
difference between winter and summer is large, the viscosity is most sensitive.
When the temperature is high, the water evaporates quickly and dries quickly.
When operating, it is necessary to pay attention to prolong the drying time or
increase the machine speed; when the temperature is low, the water evaporates
slowly and the ink dries. It is also slow. During operation, you can increase the drying
speed of the ink or add a drying device. When using in winter, because the ink is
easy to freeze below 0°C, if the ink freezes, it can be placed in a room with a high
temperature to let it Dissolve naturally, stir evenly, and continue to use.

2. The influence of thixotropy on the viscosity of ink Thixotropy means that the fluidity of
the ink increases under the action of external stirring, and the fluidity gradually
decreases after the stirring is stopped, and the performance of returning to the original
state. After the ink is placed for a long time, some inks with poor stability It is easy to
precipitate and stratify. There are also false thickening phenomena. At this time, it can
be fully stirred. After a certain period of stirring, the above problems will disappear naturally.
When using fresh ink, it must be stirred evenly in advance before making dilution adjustments.
Or it is expected that after a certain amount of ink is put on the machine, the viscosity will
drop, because the water in the machine and the thixotropy of the ink can improve
the fluidity of the ink.

3. Influence of PH value on ink viscosity The PH value of another indicator that needs to
be controlled in the application of ink and ink has a normal range of 8.9.5. At this time,
the printing performance of water-based ink is the best, and the quality of the printed
product is the most stable. When the PH value is higher than 9.5, the alkalinity is too strong,
the viscosity of the water-based ink decreases, the drying speed becomes slower,
the water resistance becomes worse, and paste is prone to occur; when the PH value is
lower than 8.5, that is, the alkalinity is too weak, the water The viscosity of the base ink will
increase, the ink is easy to dry, and it will be blocked on the plate and anilox roller,
causing the plate to be dirty and produce air bubbles.