What is the relationship between the composition and performance of the ink?
What is the relationship between the composition and performance of the ink?
author: Uvink
2023-02-10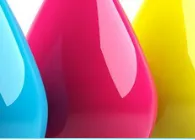 Printing ink is a paste-like colloid composed of colorants, linking materials,
fillers and other ingredients evenly mixed. As a kind of viscous fluid ink, due to
its different varieties, its performance is also different, that is, there are thick
and thin points, differences in viscous strength, fast drying and slow drying,
and so on. Therefore, it is of great significance to correctly understand and
understand the role of ink components in ink for accurately adjusting ink
characteristics, satisfying the creativity of various printing conditions,
and improving product printing quality.

  1. What kind of connection can the colorant play in the ink? Colorants
include both pigments and dyes. The colored materials used in printing inks are
usually pigments, and some dyes are also useful, which are colored substances
with extremely fine particles. Pigments are generally insoluble in water
and in the linking material, and most of them are in a suspended state in
the solution, while dyes are generally soluble in the linking material.
Pigments have a great influence on the performance of inks. The relative density,
transparency, heat resistance, light resistance and resistance to chemicals of
inks are all related to pigments.

  2. The linking material is a fluid with a certain viscosity and viscosity,
and its functions are various. As a pigment carrier, it can mix and link solid particles
such as powdered pigments, and make the cohesive pigments finally adhere to
the printed matter. While affecting and determining the fixing speed, drying speed
and drying type of the ink, the linking material can also give the ink a certain
physical properties such as gloss, friction resistance, yellowing resistance and
impact resistance, and to a large extent It determines the viscosity, viscosity,
yield value and fluidity of the ink, so high-quality ink comes from high-quality binders.

  3. The filler is a white solid substance that can be evenly and well dispersed in
the linking material, and is in the form of a fine powder. When the fillers are mixed
and ground in the binder and become slurry, some are transparent and
some are opaque. In the ink, the filler can adjust the consistency, viscosity,
fluidity and yield value of the ink on the one hand, and can adjust the ink concentration
on the other hand. That is to say, when the ink concentration is large and the hue is
deep In some cases, the dilution effect can be achieved after adding fillers.