How to find the right uv lamp power?
author: Uvink
2023-03-17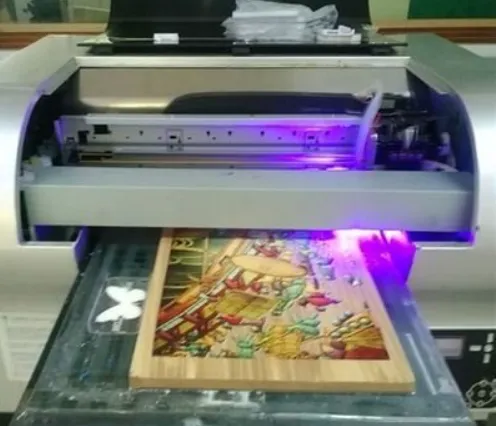 The uv lamp of the uv printer is used for curing uv ink. The principle is that the uv lamp
emits ultraviolet rays; the ultraviolet rays irradiate on the uv ink; the uv ink reacts with
the ultraviolet rays and solidifies and adheres to the surface of the material. So for uv ink,
the uv lamp of uv printer is indispensable.
   The uv lamp of the uv printer has a certain service life. Generally, it should be checked
and replaced in time after about 1000 hours of work. uv light may cause damage to
the skin and eyes, so it should be shielded to prevent uv light from irradiating the human
body; at the same time, eliminate the damage to the human body caused by ozone
generated after the air is irradiated by uv light, and pay attention to strengthening the
ventilation and smoothness of the production environment; in the light yellow light working
environment The next production is more suitable.
   How to find the right uv lamp power? Rubbing method, use offset paper to rub the uv
oil film layer with a certain pressure. If the brightness remains unchanged even if there are
a few scratches, it can be considered cured, but this method can only detect surface curing;
scratch the uv oil film layer with a needle tip, If the film layer can be scratched into granules,
it means that the film layer has been cured. If a groove like a wet soil is drawn,
it means that it is not cured.
   Uv varnish is a transparent body, and uv light can easily penetrate the surface layer to
reach the bottom layer. Therefore, the power density of uv curing lamps should not be
too high. Generally, the power density of uv lamps can be controlled at 80-120W/cm.
If the power density is high, the temperature of the lamp tube will be high, which will deform
the printed matter. Uv lamp power is too high. Although super-energy curing can ensure that
the uv oil layer is completely cured, excess uv light energy and heat will lead to
many adverse consequences.