What are the advantages of UV ink and UVLED curing machine?
What are the advantages of UV ink and UVLED curing machine?
author: Uvink
2023-02-10
   With the popularization and development of UV ink and UVLED curing machine,
the current UV inkjet technology has also begun to use UV ink and UVLED curing
machine. Compared with traditional inks and UV mercury lamps, the use of UV inks
and UVLED curing machines is obviously more competitive in terms of production
efficiency, quality, safety, and environmental protection. The molecular structure of
UV ink is irregular and dispersed before curing. After UV LED curing, the molecules of
UV ink react, and its structure will form an interwoven network, but some incompletely
reacted molecules will be transferred to The base layer of the medium.

   After the UV ink is cured, its interweaving degree is 80% to 95%. Suitable for first layer
packaging and second layer packaging. Inkjet equipment uses UV ink because UV ink
has many advantages compared with other inks: 1. UV ink is very firm after curing and
has good scratch resistance;
2. UV ink cures very fast and the color Very good stability, especially suitable for
fast printing methods;
3. The image printed with UV ink has very good durability, not easy to change color,
fade, and oxidize;
4. UV ink will not emit VOC during curing, and has a great impact on the
environment Small.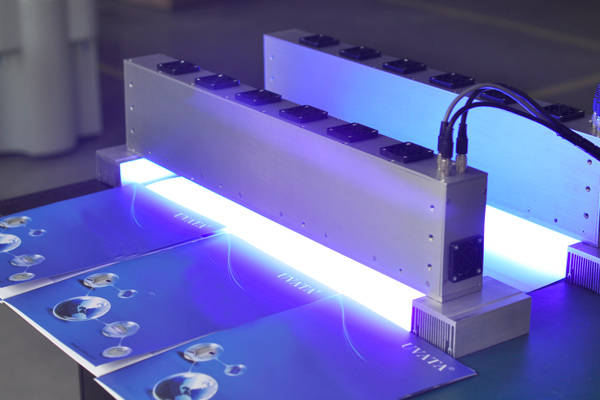 The advantages of using UVLED curing machine are: 1. UVLED curing machine is a
cold light source, and the light source emitted is deep ultraviolet light, which is
suitable for a large number of substrates;
2. UVLED curing machine can be turned on and off immediately, without preheating
and standby, reducing The degree of equipment damage can reduce equipment
investment costs and save energy consumption;
3. Fast curing speed can improve production efficiency;
4. UVLED curing machine does not contain harmful substances such as mercury,
which is a green and environmentally friendly curing technology;
5. UVLED curing The machine has a long service life, at least 20,000 hours,
and there is no need to replace the lamp tube regularly like a mercury lamp.