What is the precision of uv flatbed printer?
What is the precision of uv flatbed printer?
author: Uvink
2023-02-27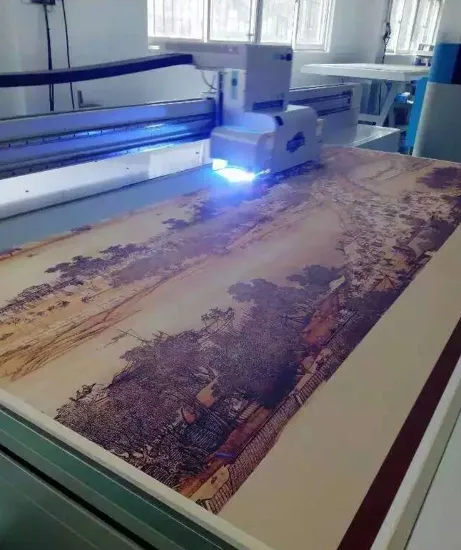 What is the precision of uv flatbed printer? In fact, in many cases, the accuracy of
the printer mainly reflects the problem of clarity, which is generally related to
the nozzle of the uv printer. First of all, it is necessary to clarify a question,
what factors determine the accuracy of the uv flatbed printer? To put it bluntly,
the printing of pictures by uv flatbed printers is the process of input and output.
Input is the process of inputting data from the computer to the printer. If the accuracy of
the input picture itself is not high, no matter how high-end, atmospheric,
and high-end the uv flatbed printer is, how to print accurately , It is also impossible to
change the lack of the input image itself. Therefore, it is generally recommended that
customers who purchase uv flatbed printers choose their own commonly used images
for printing, because only by eliminating the influence of the input image quality on
the printing quality can the authenticity of the printed data be guaranteed.

   The second is the output accuracy of the uv flatbed printer, that is, the printing accuracy,
excluding the influence of the quality of the input image, the printing accuracy is
the direct performance of the ink supply system and the number of nozzles of the uv flatbed
printer. Products printed by UV printers, if there is no ink flying within 35 cm from the product
in the normal visual range, no jagged edges, no color difference in the same batch of printing, etc.
it is high-precision printing, and then hold the printed product in hand You can also see
the fineness by visual inspection, the color is very bright, and the graininess can be seen by
the naked eye is very small, it looks very realistic, and the color difference is almost zero,
which is high-precision printing.
   For uv printers, people often say that the precision is high and the precision is low. For the layman,
the precision is generally based on the dpi range that the flatbed printer can print and support.
For example, the high-precision G6 nozzle uv flatbed machine, thanks to the nozzle supports
5PL average ink droplets, It can support printing accuracy of 1440dpi, so the printing
accuracy is called high-precision uv printer in the uv flatbed printer industry.