What is uv printing technology?
author: Uvink
2023-02-13
   UV printing technology is also known as digital inkjet printing technology.
It uses digital cameras, scanners and other equipment to input the required
printing pattern into the computer, or design it through computer software.
After raster processing, the pattern is input into the inkjet The printing system
prints, and uses the ultraviolet light of the UV lamp to quickly cure the ink to
form a clear and beautiful pattern.

   What are the advantages of UV printing technology? (1) Traditional veneer materials
mostly use solid wood veneer to achieve the natural texture effect of wood.
But nowadays, forest resources are scarce, and the use of UV printing technology can
save wooden resources and achieve the effect of natural wood grain, which is an
effective way to replace solid wood veneer materials. (2) UV jet printing belongs to
non-contact printing. It has the characteristics of no pressure, no plate, and printing
data can be set freely. It can print on demand in real time and in large format.
Nowadays, consumers are more pursuing personalized customization, and customized
furniture has become a major fashion trend. UV printing technology can enrich
the surface decoration effect of furniture and better meet consumer needs.
(3) UV printing is applicable to a wide range of materials, not only can be printed
on wood materials, but also can be printed on furniture materials such as acrylic and glass.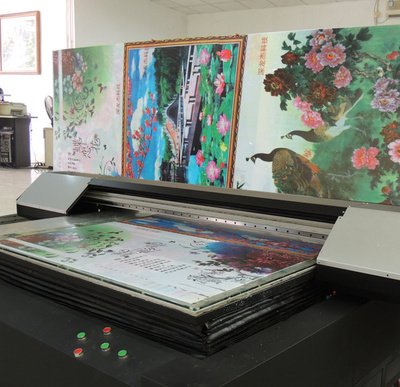 What kinds of pattern effects does furniture UV printing technology have?
(1) Artistic pattern effect. Artistic pattern effect refers to the use of UV digital printing
technology to print abstract, geometric, real wood grain and other artistic patterns
on furniture, which is very visually impactful. Moreover, the current printing process
of this pattern is relatively mature and can be mass-produced.
(2) Three-dimensional wood grain mosaic effect. This kind of mosaic pattern is
based on the stackability of uv ink, combined with a special printing mode,
it can print two or three layers of three-dimensional wood grain painting effect.